One of the oldest and safest medicines in the world, psilocybin and psilocin from psychedelic mushrooms have been known to reduce stress, depression, stimulate brain cell growth, increase focus, and sharpen your senses. Since decriminalized in Washington DC, you can now enjoy the benefits of all that magic mushrooms have to offer without an inner battle about legality. Aside from the obvious use of magic mushrooms to "trip out" and feel effects similar to that of the drug acid, there is a growing number of people taking much smaller daily doses of the fungus for long term mental health benefits via micro-dosing.
Microdosing psychedelics is the practice of consuming very low, sub-hallucinogenic doses of a psychedelic substance, such as lysergic acid diethylamide (LSD) or psilocybin-containing mushrooms. According to media reports, microdosing has grown in popularity, yet the scientific literature contains minimal research on this practice. For the people it works for, they simply feel happier, more euphoric, more energetic and not at all restricted from having a pleasant & productive day.
Fans of micro-dosing typically use 1/10th of the typical recreational amount in a sitting, and at sub-halucinogenic levels they are perfectly capable of getting to the office or taking care of their kids. Positives listed by users include improved mood, focus, creativity, self-efficacy, energy and more.
That's not to say there aren't negatives, as ingesting magic mushrooms can cause unwanted side effects like nausea, gastrointestinal issues, and headaches (dependent upon the user and quantity ingested).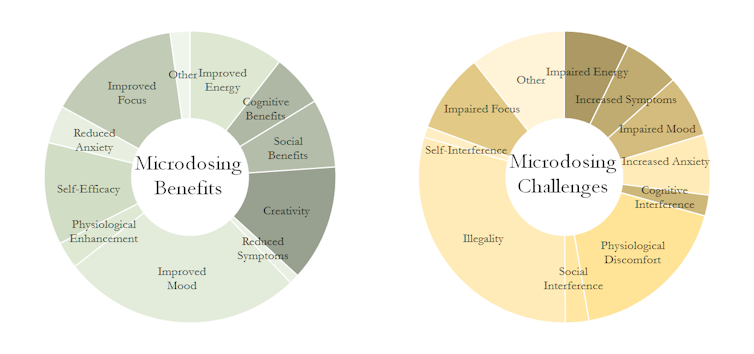 Chart via The Conversation Microdosers Psychedelic Report  
DOSAGE  FOR PURPLE PENTHOUSE EXCLUSIVE POLKA DOT MAGIC MUSHROOM CHOCOLATE 
🍄 MICRODOSE: 1-3 PIECES. STIMULATE THE MIND.
🍄 🍄 THERAPEUTIC: 4-9 PIECES. MINDFUL AND ELEVATED.
🍄 🍄 🍄 GOD MODE: 10-15 PIECES. WALLS MIGHT MELT.
MADE WITH LOVE ON OAKLAND, CALIFORNIA. VEGAN.